Magento comes by default with a number of product types for different situations. These product types are: Simple, Virtual, Downloadable, Grouped, Configurable or Bundle. Each product type shines in particular scenarios - bundles are great for building custom products, grouping items together as a discount while still managing stock levels. Grouped Products are great for quick data entry in B2B or when multiple qty's of different products need to be chosen quickly. Configurable products are great when you have to select multiple options to choose a single product (ie: Large and Red).
Through Magento's great extension ecosystem, it's now possibly to mix and match Configurables (the ability to choose multiple options for a single product) with Grouped products (the ability to choose multiple quantities of similiar products) in a single product detail view page.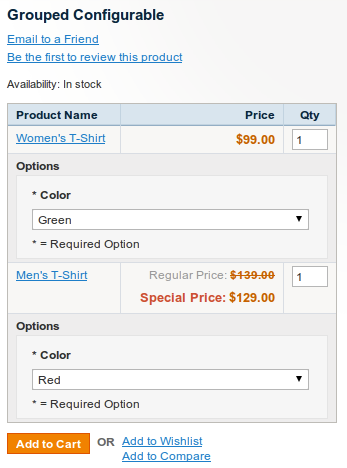 Now, obviously, this screenshot is a cut down example but consider the above scenario where you might be ordering Team Jerseys, School Uniforms or Work Uniforms and you may need to order 3 x Large, Red Men's, 3 x Large, Blue Men's, 2x Small, Red Women's etc. In grouped product scenario, you would have a massive grid of products containing all the different sizes and colours for both mens and womens. Or alternatively, in a configurable product scenario, you would need to enter and re-enter the page many times.
Mix this up with an Ajax 'add to cart' affect and you can achieve very quick ordering of complex product types very easily. Simplifying these processes are vital. Our Google Analytics data shows us that the large majority of orders are placed by a customer in under 5 minutes. In many cases, it's less than 3 minutes. Making it difficult for customers to fill their baskets is like walking into a shopping centre where, you can only use a carry basket instead of a trolley and everything is on shelves almost out of reach and then reaching the checkout and there's a 20 metre queue. It would be a frustrating experience. Always keep these things in mind when developing your Ecommerce experience for customers.