There are numerous reasons to market your Ecommerce website through shopping comparison sites. Here's a few:
They provide qualified traffic back to your website - these are people who are often ready or willing to buy
They are often experienced online shoppers
They are tech-savvy and will often share their purchase elsewhere on Facebook, Twitter or with friends via email.
These are high traffic, high ranking websites. Getting links from them back to your website increases your SEO position.
Google Shopping, in particular is very popular as it enables you to get a leg-up on the competition for your products as you have the opportunity to get your products displayed in your normal product searches as this example search for Dog Beds shows in the red outline below. (also note the MyShopping link below it)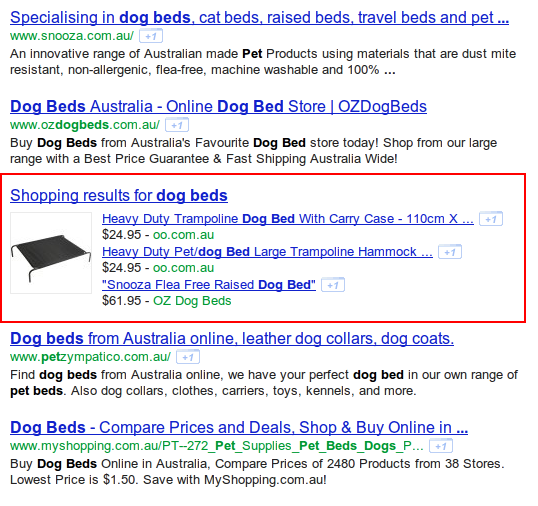 Each of the different shopping comparison sites require the feeds provided in different formats. Our main 'go to' extension to do this is GoMage Feed Pro. It's currently $139.00 for Magento Community Edition, Professional or Magento Enterprise Edition. It enables you to setup the individual feeds to be provided to each of the shopping comparison sites in their required format.
You can view Google Shopping feed specification here. Previously, Google also used something they called "Google Rich Snippets" but have moved to another Format developed in conjunction with Microsoft & Yahoo also has the ability to index your site and read your product data by means of tags in your HTML to convey information about the product, whether it be an ISBN, a price, a special price, the product title, the description etc. This website to view information about this Microdata format is Schema.org
One thing to keep in mind with Google Shopping specifically is that at the time of this post, you need to:
Provide site verification, via a html file or dns entry for your site
The feed needs to come from your Domain name
There is a 4-6 week wait period on getting approval, which can't happen until AFTER your site is live.
There is a 500 SKU limit
For this reason and others, our philosophy is to keep your Magento website development as short and sweet as possible and then continue to make iterative enhancements over time. This may not always be possible if you are converting your current Ecommerce site from ZenCart, Virtuemart, Volusion or OScommerce to Magento but we still try to emphasise to only make Stage 1 of the development process the minimal required to get your Magento site live in a way that exceeds your current site, if you have one
Again, this is just one aspect of a complete Ecommerce Marketing Effort and really just skims the surface. Make sure you sign up to our blog or Ecommerce Newsletter for more details on marketing your ecommerce business.
Do you Need help with GoMage Feed Pro or any other aspect of your Magento Ecommerce Website? Call us on 1300-763-863 or use our contact form to get in touch.